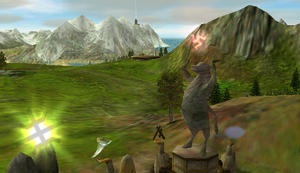 This gold story scroll can be located on top of the player's newly built norse worship site.
Continuing from the previous quest, Khazar returns to instruct the player in the basics of the worship site, the totem at the village center and prayer power.
There is nothing to be done on this quest, just watch the cinematic and learn.
Reward: Lessons about worshipping and prayer power.
Ad blocker interference detected!
Wikia is a free-to-use site that makes money from advertising. We have a modified experience for viewers using ad blockers

Wikia is not accessible if you've made further modifications. Remove the custom ad blocker rule(s) and the page will load as expected.