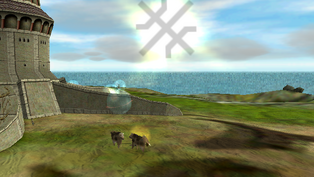 This is a gold story scroll on Land 2 started by Khazar. It becomes available after both the player's temple and the village center are fully constructed.
Activating it, causes a worship site to appear near the player's temple. Khazar will drop a builder disciple (and explain a few things about disciples while he's at it) and says he will return once the worship site is built.
Reward: A lesson about disciples and a worship site.
This quest can be skipped. The worship site will appear as normal (the "tutorial block" is removed) when Khazar is killed. However, the player must progress the plot to that point without the aid of miracles. A mature and well trained creature can be invaluable for this purpose. Note that the workshop quest and subsequent village taking quest will not appear if this quest is skipped. This can be convenient if one is "just playing through", and does not wish to participate in tutorials.
Ad blocker interference detected!
Wikia is a free-to-use site that makes money from advertising. We have a modified experience for viewers using ad blockers

Wikia is not accessible if you've made further modifications. Remove the custom ad blocker rule(s) and the page will load as expected.