The Wolf (Canis lupus) is a Creature of Black & White.
How to unlock
Edit
Complete The Treacherous Path challenge on Land 4 after downloading patch 1.2.
Alignment
Edit
The natural alignment of the Wolf is evil.
Neutral look
Edit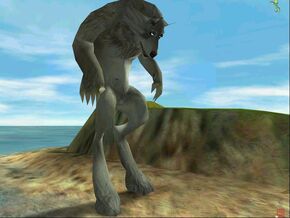 The neutral look of the Wolf is a timber wolf.
Good look
Edit
The good look of the Wolf is a purple chinchilla.
Evil look
Edit
The evil look of the Wolf is a vicious wolf.
Al Characteristics
Edit
Here is a rough idea of the characteristics of the Wolf:
speed = 10
strength = 5
intelligence = 4.5
General description
Edit
A good, all around Creature, very good fighter, can nearly keep up with the Horse when it comes to running speed and it is not a bad learner. It is pretty destructive, but can be taught to act differently, like any other creature.
Other God's Creature
Lethys uses a Wolf as his Creature.