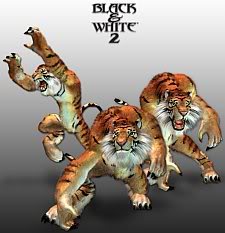 The tiger is a creature in Black and White 2, and exclusive to the collectors edition of the game, though does not feature as an available creature at first and must be unlocked through a third party unlocker program. Unlocker available at these sites below
- http://blackandwhite2.filefront.com/file/Tiger_Unlocker;86757
or
- http://www.kayssplace.com/files/index.php?display=1081
The tiger also features as a starting creature in the Black & White 2 expansion Battle of the Gods and subsequently added to the main game if the expansion pack is installed.
The Tiger features as an enemy creature for the Japanese faction, appearing on the second and last Japanese islands midway through the game.
The tiger is more or less a re-skinned lion with many similar animations attached to it also possessing the same levels of health,speed, and strength as the lion.
Ad blocker interference detected!
Wikia is a free-to-use site that makes money from advertising. We have a modified experience for viewers using ad blockers

Wikia is not accessible if you've made further modifications. Remove the custom ad blocker rule(s) and the page will load as expected.