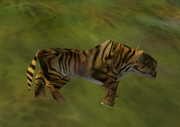 For the creature, see Tiger.
Tigers are animals that live in the world of Eden in Black & White.
They travel in packs and, as all animals, can be eaten by the creature, or dumped in the village store to feed villagers.
Their most notable use is on Land 2 (the only place known to have tigers) where they can be used to complete The Slavers challenge, being worth two slaves each.
Black & White tigers are bengal tigers.
Tigers also feature in large numbers on the small offshore island in the creature isle expansion pack which is used for the last segment of a trial set by one of the brotherhood of creatures.
Ad blocker interference detected!
Wikia is a free-to-use site that makes money from advertising. We have a modified experience for viewers using ad blockers

Wikia is not accessible if you've made further modifications. Remove the custom ad blocker rule(s) and the page will load as expected.