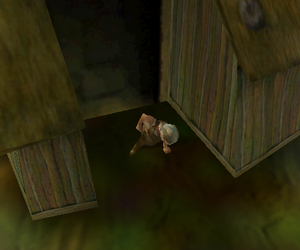 The Workshop - Part 1 is a gold story scroll located on the newly-built workshop at the player's starting village on Land 2. It becomes available after the player learns about the worship site from Khazar and builds his workshop (which is also provided by Khazar).
In this quest, a craftsman will inform the player that he/she doesn't have enough houses for the villagers and that if he's provided with enough wood, he'll be able to make a scaffolding out of it.
The player must supply him with wood until the flag at the workshop drops completely and then wait until the scaffolding is ready, when ready, it should be picked up on the workshop's yard and placed anywhere on the ground to make a small abode construction site appear.
The player must then supply the construction site with wood and have the villagers erect the building.
Reward: Lessons about the workshop and buildings and the second part of the quest.
This quest can be skipped. The player can manipulate objects within Khazar's influence. Therefore, the player can simply take scaffolds from Khazar, and use them to construct whatever she wishes, including her own workshop.
Ad blocker interference detected!
Wikia is a free-to-use site that makes money from advertising. We have a modified experience for viewers using ad blockers

Wikia is not accessible if you've made further modifications. Remove the custom ad blocker rule(s) and the page will load as expected.