"
I am Sleg, son of Sleg and yes, I have a Guardian Stone. If you want it, you must be prepared to fight. Many have tried, but I've never been defeated.
"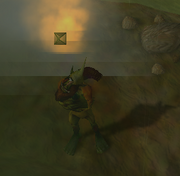 - Sleg
The Defending Ogres is a Gold Story Scroll quest and it is part of the Guardian Stone chain to remove the curse from Land 4.
This quest is available from the start, but the scroll itself will only be visible after The Totem Puzzle and The Heartbroken Man are completed. The scroll, the Ogre and his gremlins will be located on a swamp that emits green fog, on the beach all the way from the right of the temple (assuming the player is facing it).
In this quest, the player must send his creature over to battle Sleg, leader of the gremlin raiding party and protector of the second guardian stone.

Reward: Winning the fight will grant the player access to the stone, ending the heavy rain, the lightning and the gremlin raids on the Norse village.
Like all quest-related creatures, Sleg will have the same size as the player's creature by default. This is to prevent the fight from being impossible due to one of the two creatures being too small.
Ad blocker interference detected!
Wikia is a free-to-use site that makes money from advertising. We have a modified experience for viewers using ad blockers

Wikia is not accessible if you've made further modifications. Remove the custom ad blocker rule(s) and the page will load as expected.