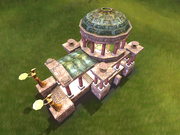 Description
Edit
The faithful will flock to this edifice erected to your glory. Their earnest worship will be amplified in this holy place and not only will your people be happier, but your entire Town will be much enhanced in impressiveness. Others will look at your Temple and they'll feel the deep pangs of jealousy.
Statistics
Edit
Ad blocker interference detected!
Wikia is a free-to-use site that makes money from advertising. We have a modified experience for viewers using ad blockers

Wikia is not accessible if you've made further modifications. Remove the custom ad blocker rule(s) and the page will load as expected.