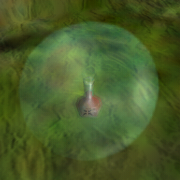 Shrink Creature is a creature miracle featured on Black & White. It is represented by a shrinking bottle.
This miracle can be used against any creature to make it decrease considerably in size for the duration (It will be almost as small as a villager).
It is useful to cast at an enemy creature as it approaches a neutral or friendly village. By doing this, the villagers will be much less impressed with the sight of the enemy creature, yielding less belief to the enemy god. Shrunken creatures also exhibit much less strength in a fight, making the miracle a potent combat aid when cast on enemies.
Ad blocker interference detected!
Wikia is a free-to-use site that makes money from advertising. We have a modified experience for viewers using ad blockers

Wikia is not accessible if you've made further modifications. Remove the custom ad blocker rule(s) and the page will load as expected.