The Polar Bear (Ursus maritimus) is a Creature of Black & White.
How to unlock
Edit
Complete The Explorers challenge on Land 1 in a good way, then complete The Explorers Again challenge on Land 5
Alignment
Edit
The natural alignment of the Polar Bear is good.
Neutral look
Edit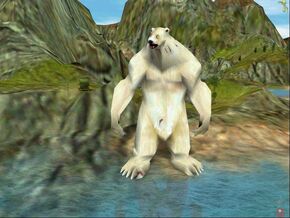 The neutral look of the Polar Bear is a normal white bear.
Good look
Edit
The good look of the Polar Bear is glowing and very happy.
Evil look
Edit
The evil look of the Polar Bear is a dark gray, smoky and angry polar bear.
Al Characteristics
Edit
Here is a rough idea of the characteristics of the Tiger:
speed = 7
strength = 5
intelligence = 4
General description
Edit
It's pretty much the same as the Brown Bear, only with a good natural alignment. It's good in battle and intelligence, and has average speed. He's also an alright village keeper. Its only disadvantage is that it tends to have a habit of overeating.
Ad blocker interference detected!
Wikia is a free-to-use site that makes money from advertising. We have a modified experience for viewers using ad blockers

Wikia is not accessible if you've made further modifications. Remove the custom ad blocker rule(s) and the page will load as expected.