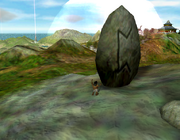 Nemesis' Shield is a non-scroll challenge from Black & White. It is automatically triggered upon impressing the neutral Tibetan village on Land 5 by even one belief point.
A group of Nemesis' followers erect an invincible spiritual shield to prevent the player from capturing the village.
The followers must channel the shield by dancing in front of runed stones (they have the same model of the singing stones). All three followers must stop if the shield is to be removed. If a miracle is cast nearby, the follower will be distracted by it and stop dancing for a while, he will resume his chant soon after, however.
Each follower removed shrinks the shield.
The Solution
Edit
The first chanter is within the player's area of influence. It is a simple matter of taking the stone from him.
The other two stones are best dealt with immediatly by the creature, because the longer the player takes to deal with them, the harder will it be (due to Nemesis' curse shrinking the creature). When the creature approaches the stone, it will automatically release lightning towards him. Picking up the follower and killing him or putting him back on the ground will stop the chanting.
Reward: The shield is removed.
After the quest has been completed, the stones may be used to make artifacts. There is a total of four of them
Ad blocker interference detected!
Wikia is a free-to-use site that makes money from advertising. We have a modified experience for viewers using ad blockers

Wikia is not accessible if you've made further modifications. Remove the custom ad blocker rule(s) and the page will load as expected.