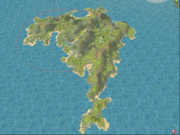 Land 1 is the first area visited by the player character in
Black & White
.
It's mainly a tutorial island and offers little challenge to complete. In it, the player learns camera controls, usage of the action button, creatures, creature commands, and more.
The player is first guided by his/her conscience then Sable, and finally the creature guide.
Land 1 only has two villages: one is Norse, the other is Aztec.
Gold Story Scrolls
Edit
Silver Reward Scrolls
Edit
Available Creatures
Edit
Land 1 has a similar shape to real world South America.
Land 1 has the lowest number of villages of the game, with only two.
Land 1 has a giant white drawing shaped roughly like a man. This style of motif is known as a geoglyph, notable examples include the Nazca Lines in Peru. It has no known purpose. This drawing is close to the Aztec village.