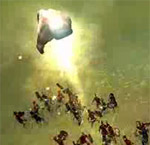 Healing, the signature miracle of all the good gods. As always, it can be poured or thrown. Throwing it creates a ball of health which explodes and heals everything in the radius. If poured, it creates a stream of light which heals anything under it. It should be used carefully though, as it can heal enemy creatures and soldiers/citizens as well. In Battle of the Gods, the healing miracle will hurt or kill undead warriors. This makes buying this miracle for the creature a good idea. As whenever the creature gets low in health in a fight, it will automatically heal itself, killing enemies around him. Using it on followers will shift the player's alignment towards good. It costs a cheap 20,000 tribute and 1,000 Mana to cast.
Ad blocker interference detected!
Wikia is a free-to-use site that makes money from advertising. We have a modified experience for viewers using ad blockers

Wikia is not accessible if you've made further modifications. Remove the custom ad blocker rule(s) and the page will load as expected.