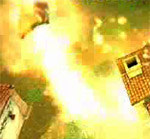 When thrown, this miracle takes form of a ball of fire that explodes on impact, causing massive damage and setting on fire anything nearby. When poured, it takes form of a pillar of fire, setting alight anything its poured on to leaving a trail of burning flames. This is the most common offensive miracle. The creature can also use this miracle, but only by throwing it. It can also be casted over the player's own city. It costs 60,000 tribute to become usable, and it costs 2,000 Mana to cast.
Ad blocker interference detected!
Wikia is a free-to-use site that makes money from advertising. We have a modified experience for viewers using ad blockers

Wikia is not accessible if you've made further modifications. Remove the custom ad blocker rule(s) and the page will load as expected.