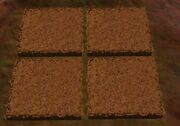 A field can be built (or rather, grown) by combining four scaffoldings and placing them on the ground.
It will then grow with time, but the process can occur at a faster rate if villagers plant seeds, or by use of a water miracle.
When it's grown, it can be harvested for food by villagers, farmer disciples, a creature (if taught to do so) or a god.
As a village grows, more fields may be required.
Fields can reportedly be 'fertilized' to improve output if a Creature takes a poo in one; try teaching yours to relieve himself on your own fields if possible. It is currently not confirmed whether the Creature must poo directly in the field, or if the individual lumps can be dropped on them manually.
Warning: A field that catches fire will be very difficult to put out.
Unharvested grain from fields will cause a creature to puke if eaten.
A fully grown field will yield 349 food when harvested by hand.