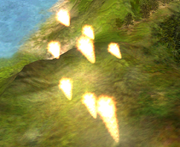 Extreme miracles the most powerful miracles featured on Black & White.
Only four evil miracles used for attack can be extreme. The other miracles featured on the game have only a basic, or basic and increased form.
An extreme miracle will have two glowing rings around it, to help the player identify it. They can be encased in one-shot miracle bubbles by using a miracle dispenser just like any other miracle.
These miracles increase the power or add a previously unexistant effect to its basic form, but cost more prayer power to be cast.
List of Extreme Miracles
Edit
Below is a list of every miracle that has an extreme form as well as its effects.
Ad blocker interference detected!
Wikia is a free-to-use site that makes money from advertising. We have a modified experience for viewers using ad blockers

Wikia is not accessible if you've made further modifications. Remove the custom ad blocker rule(s) and the page will load as expected.