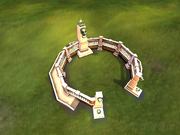 Description
Edit
Though a creature can sleep anywhere he wants, the creature pen is the best choice. Training him to sleep in his pen is important. While sleeping in the pen, he grows quicker, heals faster, and feels rested more quickly, meaning he'll be up and working or fighting again sooner. The creature pen doesn't require any tribute to purchase, and it's available to the player from the time he/she first selects a creature. Building the pen should be a moderately high priority, not only for the creature's sake, but for town expansion reasons: it increases the influence ring significantly.
Statistics
Edit
Tribute cost: 0
Ore cost: 0
Wood cost: 3,000
Base Impressiveness: 800
Influence ring effect: 48
Base Capacity: N/A
Maximum Capacity: N/A
Bonuses:
Creature Growth
Creature Rest
Ad blocker interference detected!
Wikia is a free-to-use site that makes money from advertising. We have a modified experience for viewers using ad blockers

Wikia is not accessible if you've made further modifications. Remove the custom ad blocker rule(s) and the page will load as expected.