The Cow (Bos taurus) is a Creature of Black & White.
How to unlock
Edit
Chosen at the beginning of the game.
Alignment
Edit
The natural alignment of the Cow is good.
Neutral look
Edit
The neutral look of the Cow is a brown and white cow.
Good look
Edit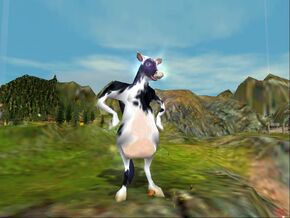 The
good
look of the Cow is a shiny black and white cow.
Evil look
Edit
The evil look of the Cow is a red angry bull with horns.
Al Characteristics
Edit
Here is a rough idea of the characteristics of the Tiger:
speed = 7
strength = 5
intelligence = 4
General description
Edit
Although the Cow has low stats, it grows fast and its stats increase rapidly with proper training. However it has a knack for overeating if left on his own. A good all around creature.
Ad blocker interference detected!
Wikia is a free-to-use site that makes money from advertising. We have a modified experience for viewers using ad blockers

Wikia is not accessible if you've made further modifications. Remove the custom ad blocker rule(s) and the page will load as expected.