The Chicken (Gallus gallus) is a Creature of Black & White: Creature Isle.
How to unlock
Edit
Complete Tyke's learning, then Rufus will raise the Chicken plinth.
Alignment
Edit
The natural alignment of the Chicken is neutral.
Neutral look
Edit
The neutral look of the Chicken is a yellow and brown chicken.
Good look
Edit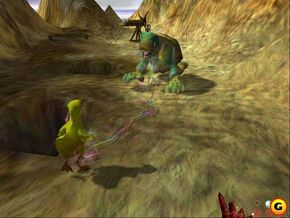 The
good
look of the Chicken is a yellow chick.
Evil look
Edit
The evil look of the Chicken is a dark red and dark green rooster.
Al Characteristics
Edit
Here is a rough idea of the characteristics of the Tiger:
speed = 7
strength = 5
intelligence = 4
General description
Edit
Not the best Creature, it's not the smartest, or the strongest or fastest. I wouldn't recommend using him.
Ad blocker interference detected!
Wikia is a free-to-use site that makes money from advertising. We have a modified experience for viewers using ad blockers

Wikia is not accessible if you've made further modifications. Remove the custom ad blocker rule(s) and the page will load as expected.